This section contains news and events related to climate change and international security, NATO 2030, and issues covered in the NCWES report.
Readers are welcome to comment at the end of the page.
---
NATO's Renewed Focus on Climate Change & Security: What You Need to Know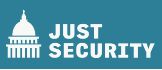 by Mark Nevitt; Just Security, 23 June 2021
An article by Mark Nevitt for Just Security reported on the 14 June NATO Brussels Summit referring to the Communiqué as well as the Climate Change and Security Action Plan. Concerning the latter, the author wrote that "This pithy but powerful plan — just three pages – expressly acknowledges climate change's role in state political fragility, conflict, displacement, and migration. It also specified four specific action items to keep an eye on:
- Awareness: Increase climate awareness among allies via an annual Climate Change and Security Impact Assessment.
- Adaptation: Adapt to climate change by incorporating climate change considerations into its work on many areas to include defense planning, training and exercises, and disaster response.
- Mitigation: Mitigate NATO's contribution of Greenhouse Gas (GHG) emissions by developing a novel "mapping and analytical methodology" for GHG emissions from military activities and installations.
- Outreach: Enhance outreach with a broad swath of climate-partners to include international and regional organizations, the United Nations, EU, academia, and industry."
Referring also to previous article Mark Nevitt added that "the future will increasingly be shaped by climate change's destabilizing impacts — a vision now clearly shared by all 30 NATO members."
The author further indicates: "Despite these bold pronouncements, questions remain on translating NATO's bold, strategic climate initiatives into action. As NATO implements the Action Plan", the author highlights three questions to help focus our collective attention (and explores each of these in detail):
1. How Does the NATO Climate Plan Translate into NATO Arctic Operations?
2. How will NATO's Climate Efforts Synchronize with Other International Organizations & Efforts?
3. Will NATO's New Climate Change and Security Impact Assessment Better Predict Future, Outside Threats?"
The author concludes that "NATO is correct to see climate change as a destabilizing force this century and its new Climate Action Plan should help prepare the "strongest and most successful Alliance in history" for our climate-destabilized future."
---
Canada to establish and host a new NATO Centre of Excellence on Climate and Security
Brussels, 14 June 2021

Canadian Prime Minister, Justin Trudeau, participated in the NATO Summit in Brussels, Belgium on 14 June 2021. At the Summit, leaders discussed threats and challenges affecting transatlantic security and joint efforts to strengthen shared commitments to keep our people safe. Leaders also welcomed an ambitious NATO 2030 agenda that will continue NATO's adaptation to address evolving security challenges, including the security implications of climate change.
Climate change is one of the greatest threats of our time, impacting all of our people and our global security. Prime Minister Trudeau announced Canada's proposal to establish and host a new NATO Centre of Excellence on Climate and Security and work with Allies as the Centre's framework nation. It would provide Allies with a central location to pool their knowledge and develop effective preparedness and responses to the security impacts of climate change.
In a press release on 14 June Prime Minister, Justin Trudeau was quoted as saying, "As a founding member of NATO, the Alliance has been a cornerstone of Canada's defence and security for more than 70 years. The advances we made at this Summit will ensure NATO continues to adapt to meet the security challenges of today and tomorrow, including those brought on by climate change, and will build a safer and more resilient world for our people."
>>> Read the full press release >>>
NATO Centre of Excellence on Climate and Security
An additional press release on Strengthening Transatlantic Defence and Security provided further information concerning the new COE:
"In a rapidly changing global security environment, NATO must continue to prepare for, mitigate, and adapt to the security impacts of climate change.
The Government of Canada will engage with NATO and our Allies to complete the NATO Centre of Excellence (COE) design and negotiation process from 2021, aiming to establish the COE in 2023 or afterwards. Canada could be joined in this effort by other Allies that wish to contribute to the work of the COE. NATO COEs are international military organizations that are established, run, and funded by individual NATO Allies or groups of Allies. NATO COEs train and educate personnel from Allied and Partner nations on specialized topics of relevance to the Alliance. Canada has been a major contributor to other NATO COEs, including the Cooperative Cyber Defence COE, the Energy Security COE, and the Strategic Communications COE, among others.
Climate change is one of the defining challenges of our time, with global impacts affecting all countries. A Canada-hosted COE on Climate and Security would respond to an identified Alliance priority to better understand, adapt to and mitigate the security implications of climate change. This COE would also facilitate the exchange of expertise among Allies, build capacity to address the security implications of climate change, and help advance our ongoing efforts to reduce the climate impact of our military activities.
The response to climate change threats requires collaboration across many sectors and must consider diverse perspectives, including those of women and girls, Indigenous peoples, as well as marginalized, and vulnerable populations. The Government of Canada plans to include, consult and integrate such perspectives as we pursue the establishment of this COE."
---
"Preparing the Common Security and Defence Policy for the new security environment created by climate change"
Brussels, 16 June 2021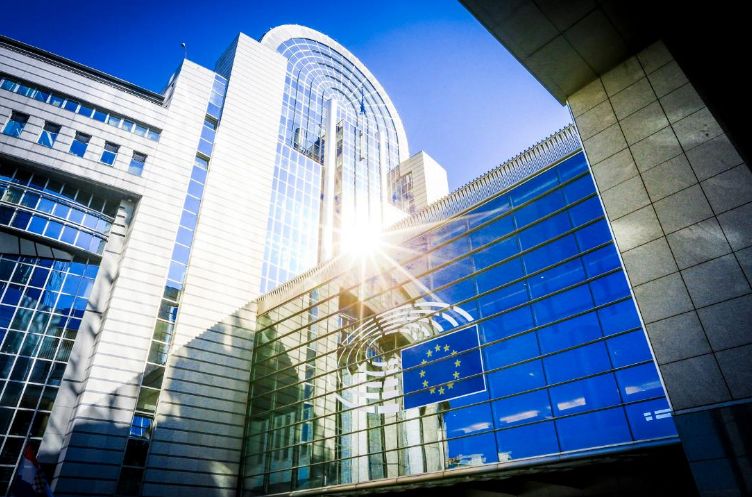 The all day meeting of the European Parliament SEDE Subcommittee on Security and Defence on Wednesday, 16 June, included a session beginning at 13:45 on The EU's Climate Change and Defence Roadmap and a presentation of the study on "Preparing the Common Security and Defence Policy for the new security environment created by climate change" – with Arnout MOLENAAR, Head of Division, Security and Defence Policy, European External Action Service (EEAS) and Prof. Christoph MEYER, Professor of European & International Politics, King's College, London.
>>> Watch the recording here >>>
---
The military's contribution to climate change
A lack of transparency makes it hard to calculate the true scale of military emissions but it's clear they are significant.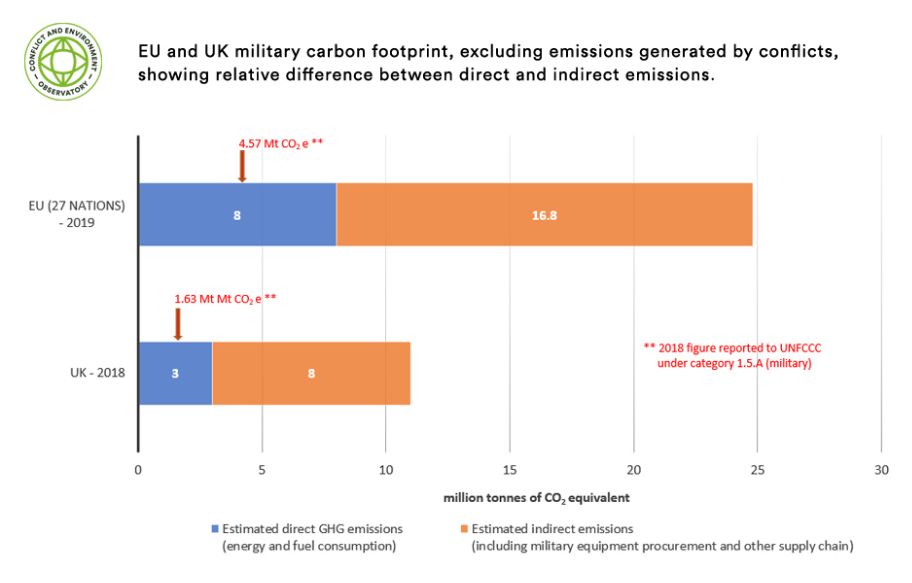 Linsey Cottrell, Environmental Policy Officer and Eoghan Darbyshire, Researcher, Conflict and Environment Observatory (CEOBS).16 June 2021
Militaries are huge energy users, making a significant contribution to climate change. Military emission reduction targets should be included in national climate strategies but we first need to better understand their emissions. In this blog, Linsey Cottrell and Eoghan Darbyshire explore why they emit so much, what needs to change, and why it's not just a question of fuel.
---
Did NATO members just pledge to reduce their military GHG emissions?
Despite the media narrative, the NATO summit failed to agree clear goals for its members to reduce their military emissions.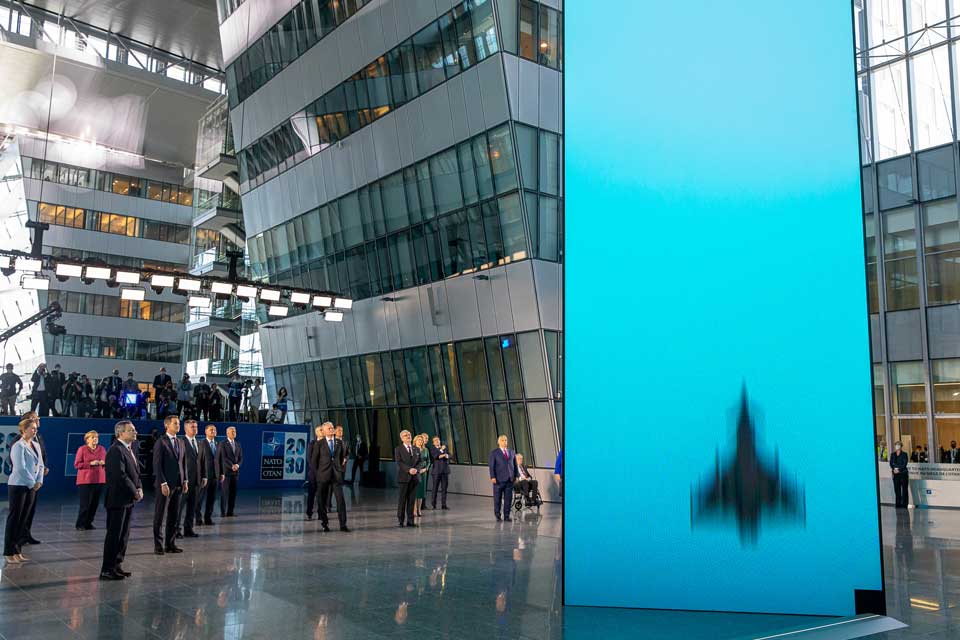 NATO leaders enjoying a multimedia tower display showing visualisations illustrating NATO's future adaptation through the NATO 2030 agenda. It's unclear if the aircraft is using biofuels. Credit: NATO
By Doug Weir, Research and Policy Director, Conflict and Environment Observatory (CEOBS). 15 June 2021.
The June 14th NATO Summit had been heralded as a breakthrough moment for the alliance in how it addresses climate change. In March, NATO foreign ministers had endorsed a new Climate Change and Security Agenda, and its Secretary General Jens Stoltenburg had built up expectations through media interviews and press statements. Doug Weir takes stock of what we learned.
With the UK legally bound to reach net zero by 2050, and the MoD pledging a contribution towards that aim, the delayed COP26 climate meeting approaching, and with many NATO members championing the importance of climate security in international fora, there were hopes that the summit would mark a step change in attention on the military's contribution to climate change. So how did they do?
To answer this we can use the benchmarks contained in the joint civil society call on military emissions that was launched in late May. The call sets out our expectations for what it would take for any military emissions pledges made by NATO, or at COP26, to be meaningful. We have three sources of information on NATO's position following the summit: the summit communique, the Climate Change and Security Agenda and Stoltenburg's post-summit press conference.
---
EU - U.S. Summit Statement stresses commitment to tackle climate change
Brussels, 15 June 2021
"The EU-US summit on 15 June 2021 marked the beginning of a renewed transatlantic partnership and set a joint agenda for EU-US cooperation in the post-pandemic era. The leaders committed to regular dialogue to take stock of progress" according to a summary of the key results of the summit released by the European Council.
On the subject of "Protecting our planet and fostering green growth" summary says that "The EU and the US are committed to the Paris Agreement and its effective and strengthened implementation. To provide an effective platform for cooperation in this regard, the leaders committed to establishing an EU-US High-Level Climate Action Group."
The summary quotes from the joint statement which says that "We intend to lead by example by becoming net-zero greenhouse gas economies by no later than 2050 and implementing our respective enhanced 2030 targets / Nationally Determined Contributions (NDCs). We resolve to engage with our international partners to achieve an ambitious outcome at the 26th UN Climate Change Conference of the Parties (COP26), making every effort to keep a 1.5-degree limit on global temperature within reach."
Other key points highlighted in the summary include:
"The leaders committed to rapidly scaling up technologies and policies that further accelerate the transition away from unabated coal capacity and to an overwhelmingly decarbonised power system in the 2030s, consistent with the EU's and the US's respective 2030 NDCs and 2050 net-zero commitments."
"The leaders resolved to increase their cooperation on transition towards a climate-neutral, resource-efficient and circular economy. They intend to work towards a Transatlantic Green Technology Alliance that would foster cooperation on the development and deployment of green technologies, as well as to promote markets to scale such technologies." and
"The EU and the US are very determined to halt and reverse biodiversity loss by 2030 and take urgent action to address its drivers. The leaders committed to the goal of conserving or protecting at least 30% of global land and 30% of global oceans by 2030. They share the goal of jointly promoting a successful and ambitious post-2020 global biodiversity framework at the 15th UN Biodiversity Conference of the Parties (COP15). Furthermore, the leaders committed to working together to protect the world's oceans, including by combating marine litter.
In Part II of the of U.S.-EU Summit Statement, the two sides stress their commitment to "Protect our planet and foster green growth". Specifically, the document states that "Climate change, environmental degradation, and the loss of biodiversity are mutually-reinforcing, extraordinary threats to humanity. We plan to continue and strengthen our cooperation to tackle climate change, environmental degradation and the loss of biodiversity, promote green growth, protect our oceans, and urge ambitious action by all other major players."
The joint statement also says both are "determined to halt and reverse biodiversity loss by 2030 and take urgent action to address its drivers." and to work "together to protect our oceans." Concerning the far North the statement declares that "We resolve to work together to retain the Arctic as a region of peace and stability and collaborate, in particular through the Arctic Council, to ensure a clean habitat and constructive cooperation on climate change, environmental protection, and sustainable economic development benefiting the region's inhabitants."
The statement ends with the a final sentence which reads: "We reaffirm our unwavering support for robust NATO-EU cooperation and to the commitments outlined and principles enshrined in the 2016 and 2018 Joint Declarations. We will work jointly to raise the level of NATO-EU ambition in order to further strengthen this mutually reinforcing key strategic partnership."
>>> Read the full statement >>>
---
Nato considers net zero by 2050 target in move to green military operations
Joe Biden has put the hefty – and underreported – carbon footprint of tanks and fighter jets on the transatlantic security agenda

Brussels, 15 June 2021
In Climate Homes News, Joe Lo, wrote that "The North Atlantic Treaty Organization (Nato) will consider a target to reduce its net greenhouse gas emissions to zero by 2050, taking on the energy-guzzling machines of modern warfare" adding that "At a Brussels summit on Monday, the leaders of Nato countries asked Secretary-General Jens Stoltenberg to "assess the feasibility" of such a target."
"The target will apply to Nato's operations around the world, mainly in Europe with some in Turkey, Afghanistan and the USA. It will not apply to member countries' militaries, but could provide a blueprint for similar action".
Doug Weir, research and policy director of the Conflict and Environment Observatory is quoted in the article saying: "Nato deserves some credit for this. It's great that the issue of military emissions is finally on the international agenda. It's a topic that has been ignored for too long."
---
Nato and climate change: How big is the problem?
Brussels, 14 June 2021
According to a BBC report "The world's most powerful defence alliance agreed on Monday to step up efforts to tackle climate change for the first time". Reporting on the NATO Summit held on 14 June, the article said that "Nato - the North Atlantic Treaty Organisation - said its members have pledged to "significantly reduce greenhouse gas emissions from military activities" in a way that does not impact personnel safety or the effectiveness of their operations".
---
NATO Climate Change and Security Action Plan
Brussels, 14 June 2021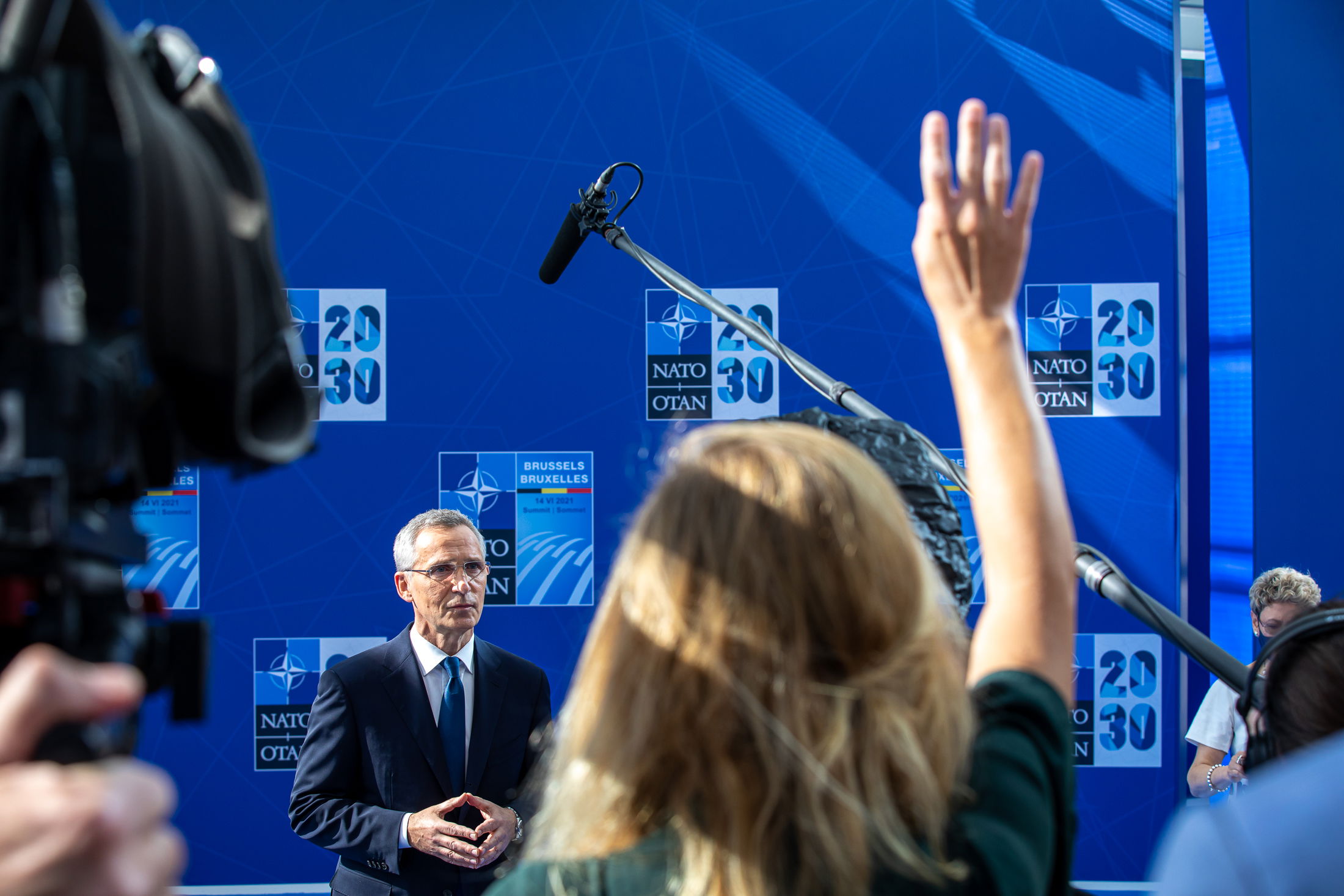 Doorstep statement by NATO Secretary General Jens Stoltenberg at the start of the NATO Summit in Brussels. Photo by NATO.
According to the guide to the NATO Summit agenda, "NATO has recognised climate change as a security challenge for many years. In the Sahel, drought has fuelled conflict, driven migration and helped create the conditions for terrorism. In the Arctic, melting ice could lead to new geopolitical tensions.
In March, Allies agreed a new Climate Change and Security Agenda and NATO is now developing an ambitious action plan on climate change for the Summit.
There are three areas where NATO has an important role to play. It will aim to set the gold standard on understanding, adapting to and mitigating the security implications of climate change by: monitoring and tracking climate change much more closely assessing the impact on assets and installations Alliance-wide; and reducing military emissions to contribute to the goal of Net Zero".
The action plan was published on the NATO website on 14 June.
>>> Read the NATO Climate Change and Security Action Plan >>>
---
ESA-SatCen Workshop on Climate Security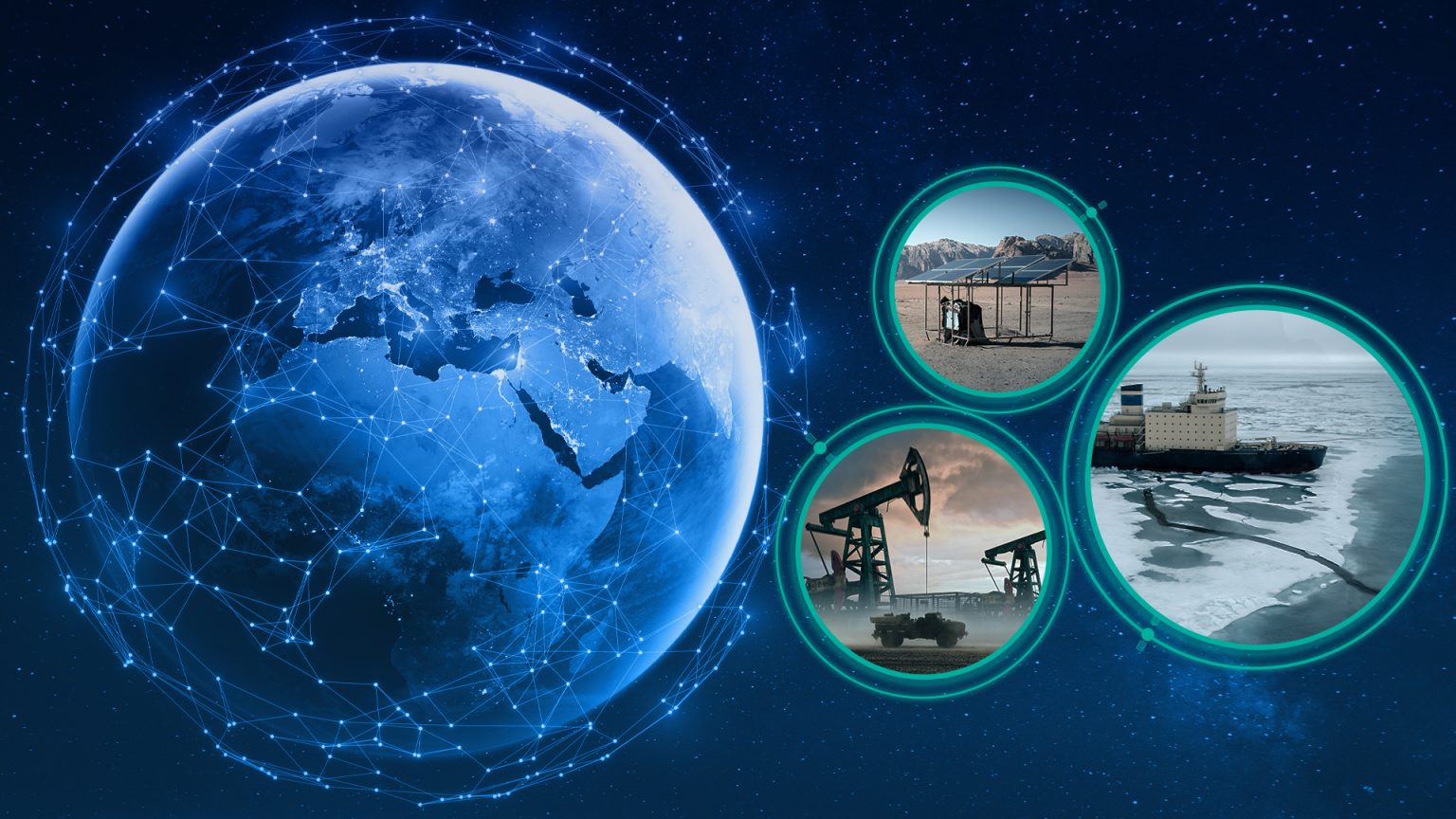 Brussels, 14 June 2021
The challenge posed by the understanding of climate security scenarios that make use of state-of-the-art EO data and technologies invites experts in different fields to join forces with the objective of identifying how to make the best use of current resources to answer the needs of policy and decision makers in different security areas.
The workshop, jointly organised by the European Space Agency and the European Union Satellite Centre, will consider some priority instances of climate change driven security concerns.
Click here for more information about the workshop.
---
International Military Council Issues "World Climate and Security Report 2021" Warning of Catastrophic Climate Risks and Urging Significant Greenhouse Gas Reductions
Washington, D.C., 7 June 2021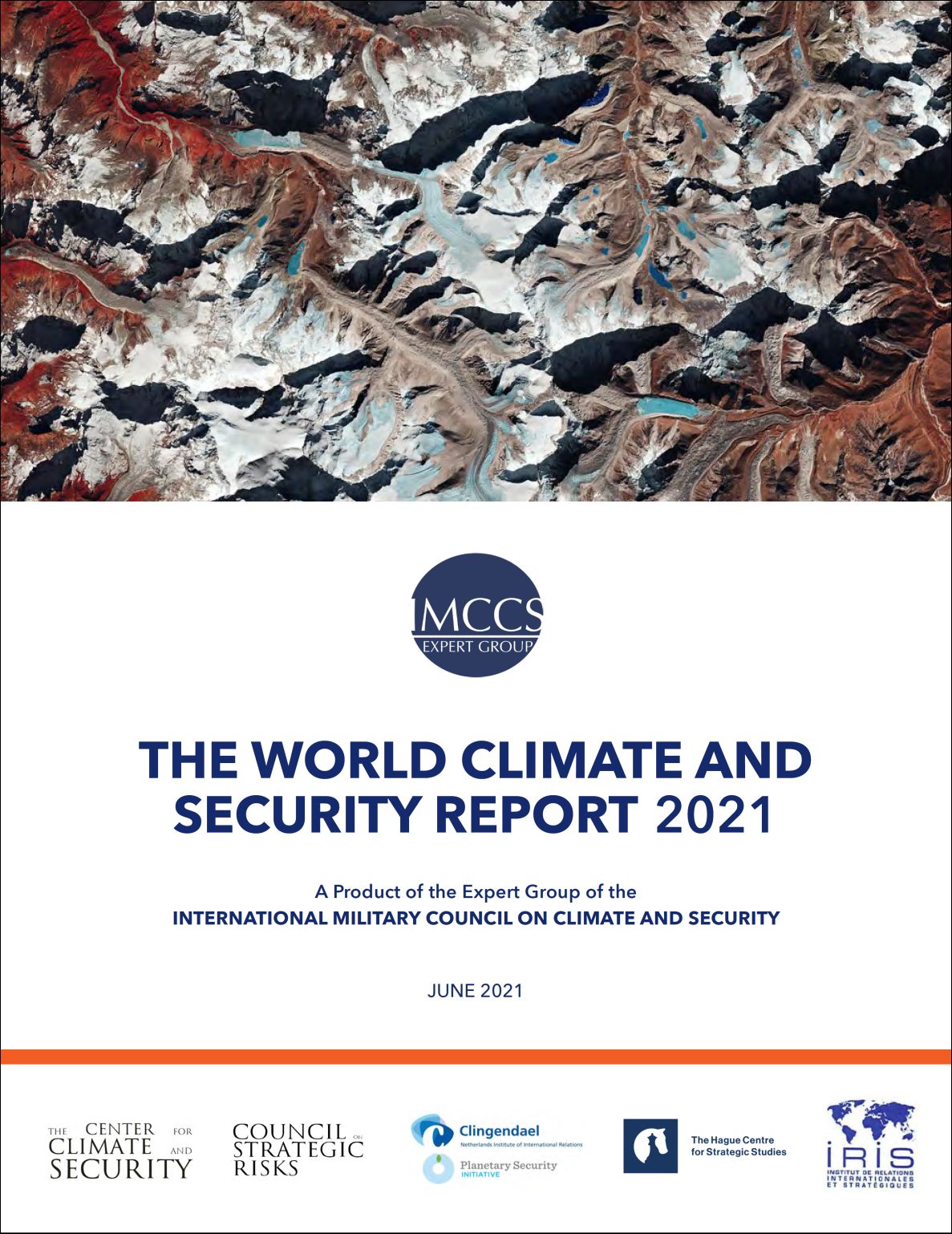 The Expert Group of the International Military Council on Climate and Security (IMCCS) released its second annual World Climate and Security Report on 7 June. The report warns of the compound security threats posed by the convergence of climate change with other global risks, such as COVID-19. The report reveals that the increasing pace and intensity of climate hazards will strain military and security services around the world as they are called on to respond to climate-driven crises, while also facing direct climate threats to their own infrastructure and readiness. The authors also call on security institutions around the globe to act as "leading voices urging significantly reduced greenhouse gas emissions, given recent warnings about the catastrophic security implications of climate change under plausible climate scenarios."
The report was released during a virtual seminar on 7 June featuring senior climate security experts from NATO, the United States, the UK, and Europe, including NATO Assistant Secretary General for Emerging Security Challenges David van Weel, former Deputy Secretary General of NATO Rose Gotemoeller, Lt. Gen. Richard Nugee, UK Ministry of Defence, and Luxembourg Deputy Prime Minister and Minister of Defence Francois Bausch.
>>> Watch the video of the launch seminar >>>
---
The new challenge for NATO: Securing a climate-changed world
Ahmet Uzumcu, Tacan Ildem, and Fatih Ceylan, New Atlanticist, 20 April 2021

After returning the United States to the Paris Agreement, US President Joe Biden invited forty world leaders to the Leaders Summit on Climate that he will host virtually on April 22 and 23. The summit comes as world leaders gear up for the United Nations Climate Change Conference of the Parties (COP26) this November in Glasgow.
---
NATO works to create its action plan in follow up to the NATO policy document on climate change and security recently adopted by NATO foreign ministers
Brussels, 23 March 2021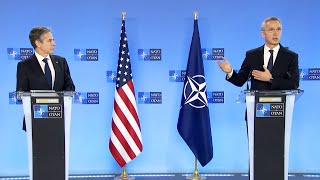 See: "NATO Secretary General Jens Stoltenberg and US Secretary of State Antony Blinken at the start of the NATO Foreign Ministers' meetings". NATO. 23 March 2021
---
About the NATO 2030 Initiative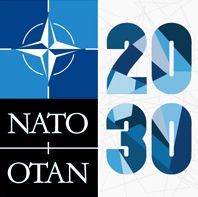 In December 2019, the NATO Allied nations' leaders invited NATO Secretary-General, Jens Stoltenberg, to lead a forward-looking reflection to strengthen NATO's political dimension. The Secretary-General will put forward recommendations to NATO Leaders when they meet at the next NATO Summit on 14 June 2021. To inform the Secretary General's recommendations with a wide variety of views and fresh thinking, NATO is engaging actively with Allied nations, experts, public and private stakeholders, and young leaders.
The NATO 2030 initiative was launched by the Secretary-General on 8 June 2020. Since then, NATO has been organising a series of thematic events to engage more in-depth with civil society, advocacy, and expert groups. These focus on the topics of climate and security, human security, economic security, and democracy.