9 April 2019 - European Parliament, Brussels
The 9th meeting of the Brussels Dialogue on Climate Diplomacy was co-organised by EDRC with GLOBE-EU at the European Parliament on 9 April 2019 in association with the Global Military Advisory Council on Climate Change and the Institute for European Environmental Policy.
In recent years the European Union, the IOM, the OSCE, and other international and regional organisations have increasingly been concerned about the security implications of a changing climate while adopting new policies and implementing new programmes on the relationship between climate change and international, national, regional, human and environmental security.

The aim of the briefing was to highlight recent and on-going initiatives by the EU, IOM, OSCE and others and discuss with an interdisciplinary audience what practical next steps are required to best implement European climate and security policies.
The briefing was co-chaired by GLOBE EU member, Jo Leinen, MEP and Arne Lietz, MEP.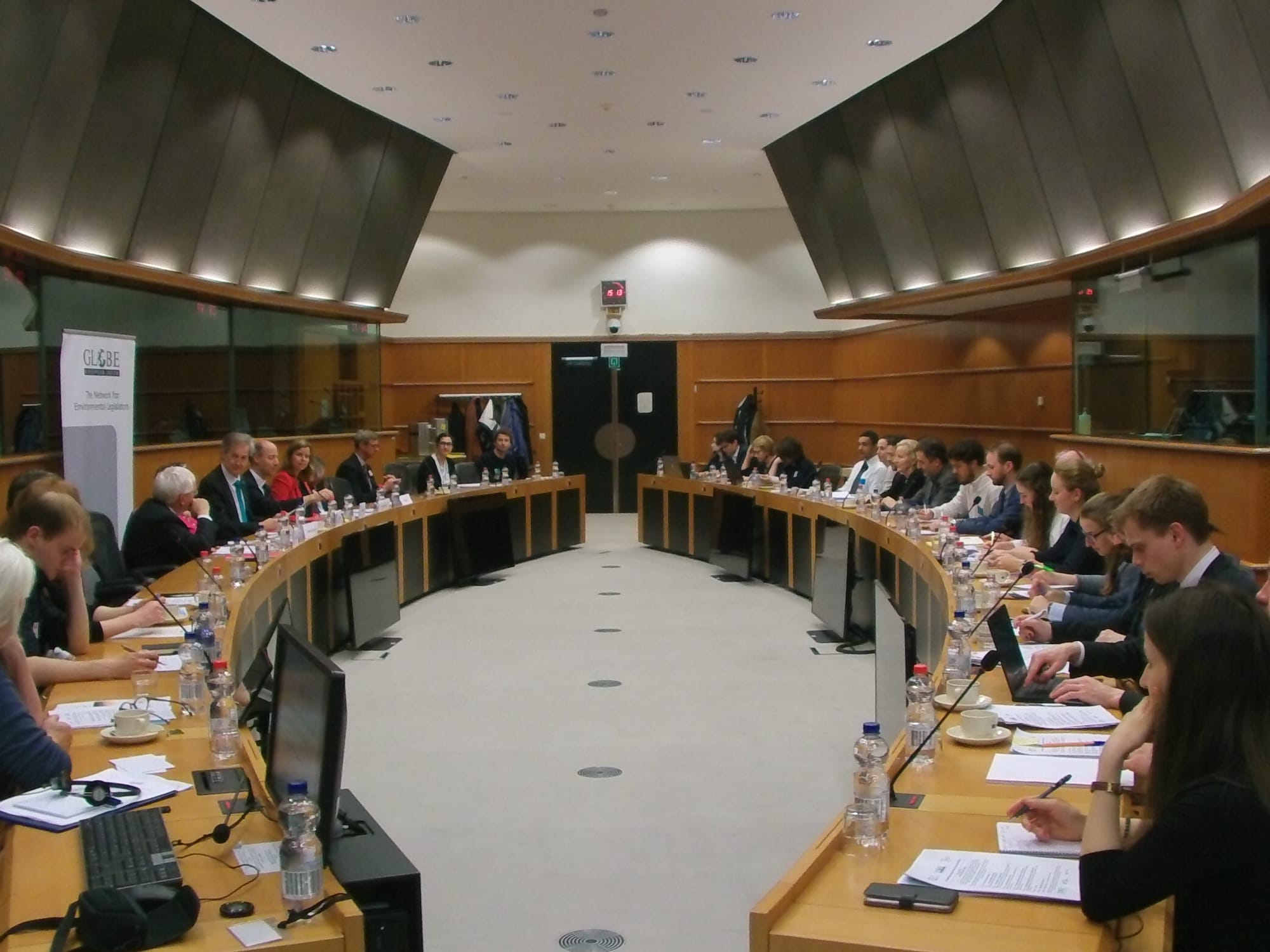 ---
Jamie Shea, Secretary-General, Global Military Advisory Council on Climate Change (GMACCC) / Former Deputy Assistant Secretary General, Emerging Security Challenges, NATO on "Security Implications of a Changing Climate"
Professor Debarati Guha-Sapir, Director, Centre for Research on the Epidemiology of Disasters (CRED), UCLouvain on "European Readiness and Responses to Climate related Natural Disasters"
Dina Ionesco, Head of Migration, Environment and Climate Change Division, International Organization for Migration on "Climate Change and Migration: Implications for European Policies"
Ralf Ernst, Deputy Co-ordinator, OSCE Economic and Environmental Activities / Head, Environmental Activities, Organization for Security and Co-operation in Europe (OSCE) on "Environmental Activities on "Climate Change and Security in Europe"
Pascal Delisle, Adviser on Climate Change, Global affairs, European External Action Service on "Recent and Upcoming Climate Diplomacy Action by the EU"
---
Organised by the Environment & Development Resource Centre and GLOBE European Union, for the Brussels Dialogue on Climate Diplomacy and the Global Military Advisory Council on Climate Change in association with the Institute for European Environmental Policy with the support of the Federal Foreign Office of Germany
---

---