15th Meeting of the Brussels Dialogue on Climate Diplomacy
On-line Event: Friday, 3 June 2022 / 16:00-17:30 CET
The aim of the meeting - ahead of the NATO summit, Madrid, 29-30 June - was to brief participants on NATO's next Strategic Concept and with respect to addressing the security impacts of climate change in particular.
Presentations also included an update on the planning for the new NATO Centre of Excellence on Climate and Security and on the NATO SPS-project "Big Earth Datacube Analytics for Transnational Security and Environment Protection - DataCube4Env Sec".
PROGRAMME
Welcome by Dr Georgios Kostakos, Executive Director, FOGGS / Member, NCWES
Moderator: Alexander Verbeek, Policy Director, EDRC
"The State of Play toward NATO's next Strategic Concept – What's in it for Addressing the Security Impact of Climate Change?"
Speaker: Richard Brewin, Programme Manager for Energy & Environmental Security and Science for Peace & Security, NATO HQ / Member, GMACCC
Respondent: Jamie Shea, Secretary-General, GMACCC
Discussion
"Update on the NATO Centre of Excellence on Climate and Security"
Speaker: Ms Blair Brimmell, Interim Director, NATO Climate and Security Centre of Excellence (CASCOE) / Head of Climate and Security Policy, Global Affairs Canada
Respondent: Lieutenant-Colonel David Burbridge, Commanding Officer, Real Property Operations Unit (Pacific) at Canadian Armed Forces / Member, GMACCC
Discussion
"Presentation of the NATO SPS-project "Big Earth Datacube Analytics for Transnational Security and Environment Protection - DataCube4Env Sec"
Speakers: Prof. Peter Baumann, Professor of Computer Science, Jacobs University Bremen and Rene Heise, Staff Officer, Emerging Security Challenges Division, NATO
Discussion
Closing by: Ronald A. Kingham, Executive Director, EDRC / Co-coordinator, BDCD

---
BACKGROUND MATERIAL
NATO's next Strategic Concept to be adopted at the 2022 Summit
NATO News, 8 October 2021
"We need to keep adapting for the future. And that is exactly what we will do at the Madrid Summit next year," the Secretary General said. At the meeting, leaders will take important decisions to implement the ambitious NATO 2030 agenda, Mr. Stoltenberg stressed, including boosting the Alliance's resilience and cyber defences, sharpening its technological edge, and addressing the security impact of climate change. NATO's next Strategic Concept will also be adopted at the 2022 Summit, the Secretary General pointed out. "The Madrid Strategic Concept will reflect the new security environment, recommit to our values, and reaffirm our unity. Ensuring that our Alliance is fit for the future." - NATO Secretary General Jens Stoltenberg, Madrid, 8 October 2021.
---
NATO Climate Change and Security Action Plan
NATO Official Texts, 14 June 2021
Climate change is one of the defining challenges of our times. It is a threat multiplier that impacts Allied security, both in the Euro-Atlantic area and in the Alliance's broader neighbourhood.
>>> Read the Action Plan adopted at the Brussels Summit 14 June 2021 >>>
---
NATO and Climate Change: Better Late Than Never
by Dr Jamie Shea, Secretary-General, GMACCC in INSIGHTS, German Marshall Fund of the United States (GMF), 11 March 2022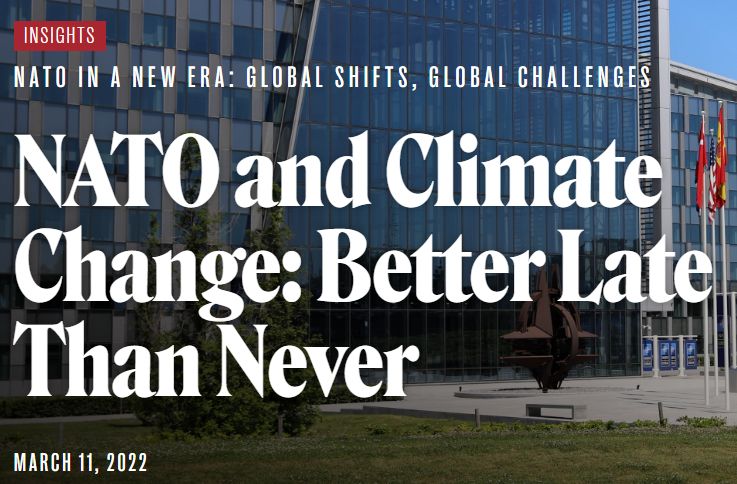 "What NATO brings to the table here are its analytical and intelligence cells, its strategic planning and foresight capabilities, its political consultation, joint assessment and information-sharing structures, its web of partnerships with non-member states and other international organizations, and its political-military command and control and operations network from HQ to the regional level. Few other organizations have all this machinery under one single roof."
---
NATO Climate Change and Security Centre of Excellence: What will this COE accomplish?
Government of Canada, 20 May 2022
NATO officially accepted Canada's formal offer of a Climate Change and Security Centre of Excellence (COE) in May 2022.
The establishment of a Climate Change and Security Centre of Excellence is an ongoing initiative led jointly by Global Affairs Canada and the Department of National Defence.
This COE will be a platform through which both military actors and civilians will develop, enhance, and share knowledge on climate change security impacts. It will also allow participants to work together to build required capabilities and best practices and contribute to NATO's goal of reducing the climate impact of our military activities. Besides hosting this centre and supporting its operation, Canada will bring its unique knowledge and abilities across a range of relevant sectors to the functioning of the COE. Through the cooperative efforts of its participants, the work of this COE will enhance the security of Canada, NATO Allies and partners, and people around the globe.
---
NATO SPS-project "Big Earth Datacube Analytics for Transnational Security and Environment Protection - DataCube4Env Sec is launched
From NATO News, 5 May 2022
In the presentation of the new project at NATO HQ on 5 May 2022 it was explained that DataCube4Env Sec will involve experts from Germany, Israel and Denmark. "As climate change and security are a growing priority for the Alliance, the NATO SPS Programme is boosting its engagement with Allies and partner nations on this shared challenge," stated Dr. Deniz Beten, Senior SPS and Partnership Cooperation Advisor.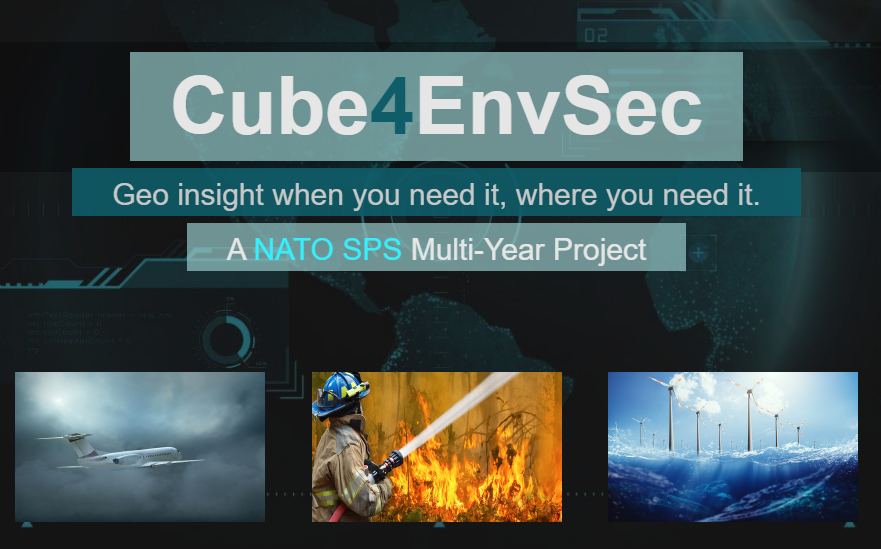 In line with the Programme's decades of experience addressing environmental security issues, Cube4EnvSec will demonstrate how datacubes can contribute to agile insights on Big Earth Data for observing natural and human-made threats of any kind, combining ground, space, and airborne sources ad-hoc and in real-time, with particular emphasis on security-relevant aspects. According to Rene Heise of the Climate and Energy Security Section at NATO Headquarters "This new generation of high-resolution (1 to 10 cm) imagery will provide greater quality and accuracy to procedures such as change analysis for airfields on unstable ground (e.g. thawing permafrost), flood simulations, harbour security in case of sea level rise or land slide risk."
>>> Read the NATO Press Release: NATO continues to adapt to rapid environmental changes >>> / >>> version française >>>
>>> Visit the DataCube4Env Sec platform >>>
---
Moving towards security: preparing NATO for climate-related migration
By Brigitte Hugh, Erin Sikorsky, NATO Review, 19 May 2022
EXTRACT: "If global warming continues unabated, the World Bank estimates that by 2050, 216 million people will migrate within their countries in search of employment, food, and water security. Already, UNHCR data shows that, over the last decade, weather-related crises created twice as much displacement as conflict. Though such displacement often initially occurs within states– from rural to urban areas–as urban areas become more stressed, people are increasingly likely to move across international borders. Globally, most states and international institutions are unprepared for the coming magnitude of climate-related migration".
---
NATO: An unexpected driver of climate action?
By Sherri Goodman, Katarina Kertysova, NATO Review, 01 February 2022
EXTRACT: "Climate change is a threat multiplier and an existential danger to Allied populations. The NATO 2030 Young Leaders Group concluded in early 2021 that, in order to fulfil its core mission of keeping the Euro-Atlantic space safe and free, NATO needs to "understand the conflict and instability implications of climate change, better prepare for future shocks, adapt its forces to extreme circumstances and reduce its own ecological footprint." Raising not just ambition but also action will require steady leadership toward building political consensus, as well as the alignment of the civilian and military sides of the Alliance. With the Madrid summit on the horizon, NATO should leverage more than 50 years of experience dealing with environmental challenges, demonstrate it can lead by example on climate security and that it is a sustainable force for the future".

>>> Read the full article >>>
---
"Sustainable Peace & Security in a Changing Climate: Recommendations for NATO 2030"
BDCD / EDRC / GMACCC, 1 June 2021
In response to the opportunity for civil society organisations to contribute input in the NATO 2030 process, the Environment & Development Resource Centre (EDRC) invited the non-governmental organisations participating in the BDCD and other NGOs, think tanks and individual experts to form the informal North-Atlantic Civil-Society Working-Group on Environment and Security (NCWES) to exchange ideas and produce the report entitled: Sustainable Peace & Security in a Changing Climate: Recommendations for NATO 2030.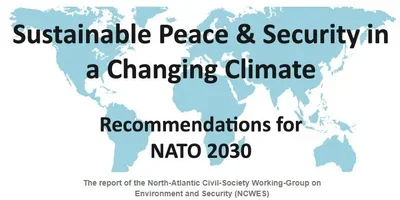 The report was first published on 30 April following a presentation of the draft version in a briefing for NATO staff and delegation on 21 April 2021 with the final version released on 27 May. The report was then presented in a public launch event on 1 June ahead of the Summit of NATO leaders on 14 June.
The working group consists of 50 representatives of 25 organisations plus 20 others serving in their personal capacities -all experts on a wide range of climate, development, environment, and security issues.
The report involving 30 writers contains 116 policy options and practical recommendations to be considered in the NATO 2030 process which can can help strengthen NATO in a time of new environmental-related challenges in the interest of promoting sustainable peace and security for all.
>>> Download the report from the NCWES page >>>
---
NATO is responding to new challenges posed by climate change
By Rene Heise, NATO Review, 01 April 2021
EXTRACT: "The Allies are individually responsible for adapting to climate change, but the Alliance must also act collectively. It is urgent that NATO comprehensively recognises changes in environmental conditions, responds to climate change and adapts its capabilities. Climate change and extreme weather have significant military implications for NATO on the tactical, operational and military-strategic level. … For NATO, this means that the future environment in which it will operate will change dramatically. If the Alliance wants to remain an effective security provider, it needs to understand the implications of climate change, and adapt its strategies and capabilities accordingly."
The article provides specific information concerning Air operations, Maritime operations, Land operations, and Space operations.
---
Why We Need a Green and More Comprehensive International Security and Defence Policy:New security challenges and traditional response mechanisms
By François Bausch, Minister of Defense, Minister for Mobility and Public Works and Minister of Internal Security, and Deputy Prime Minister, Grand Duchy of Luxembourg in Ethics and Armed Forces: Controversies in Peace Ethics & Security Policy, 2021/1 - Climate Change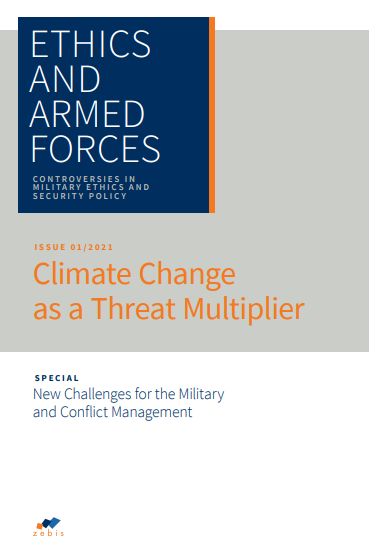 Summary: With their orientation toward alliance solidarity and collective defense, NATO and the EU have provided stability and security for decades. On the other hand, the focus on the threat from Russia has led to a neglect of new security risks – including those resulting from human interventions in the ecosystem.
Economic systems based on overconsumption of resources and the burning of fossil fuels cause, among other things, the extinction of species and climate change. Extreme weather events threaten human security through weather disasters, food shortages, the spread of dangerous diseases, and the resulting migratory pressures. As global warming continues, it will exacerbate conflicts over resources, and lead to rural exodus and violent resistance, particularly in politically fragile contexts. At the same time, the operational readiness of the military is put at risk in many places, and it is also important not to forget the economic and geopolitical consequences of emission reduction and adaptation efforts.
The same applies to the enormous greenhouse gas emissions from the military itself. Approaches taken so far to making military activities and facilities more sustainable are nowhere near sufficient; they need to be stepped up considerably, including at alliance and international level, with a targeted package of measures.
The Covid pandemic has shown that the integration of non-traditional security risks calls for a reoriented foreign, security and defence policy that is better networked and financed, combining military equipment and expertise with civilian mediation and peacebuilding approaches. It is time for climate security issues to fully permeate strategy at NATO and EU level.
>>> Download the full issue of Ethics and Armed Forces: Controversies in Peace Ethics & Security Policy, Issue 2021/1 - Climate Change as a Threat Multiplier - SPECIAL New Challenges for the Military and Conflict Management >>>
---